Sponsored by 89.3 The Current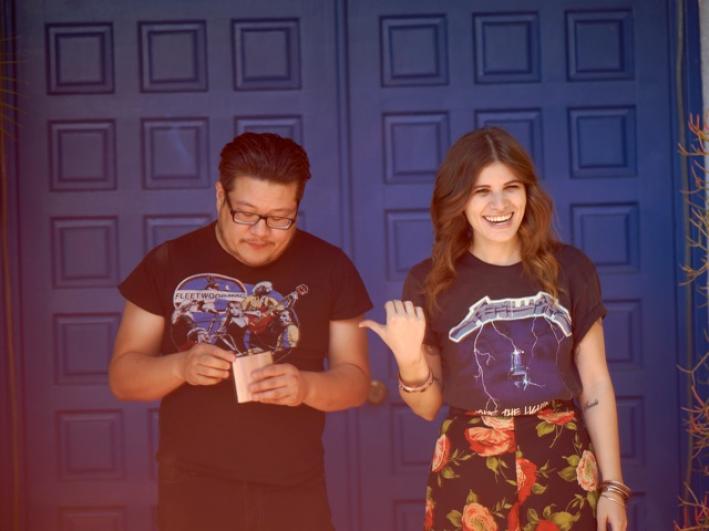 The Only Place is Best Coast's follow-up to their 2010's acclaimed album Crazy For You, and it finds the proudly Southern Californian duo of Bethany Cosentino and Bobb Bruno maturing in both their sound and perspective.
While Crazy For You was a nostalgic tribute to teenage feelings, The Only Place finds front woman Cosentino starting a transition into adulthood. "I'm trying really hard to grow up," she says. "I'm trying to let go of my bad habits and the immature things I still drag around with me." Of course this adjusting comes with uncertainty and self-doubt, two feelings at the emotional center of the album. The Only Place also celebrates Los Angeles, the one place where Cosentino believes she can be the woman she wants to be. Taken all together, it evocatively captures a turbulent era in one person's life. "This record was therapeutic for me to write," Cosentino says. "But a lot of the issues I was facing will be relatable to anybody."
As with all of Best Coast's previous recordings, on The Only Place Cosentino handles all songwriting, lyrics, vocals and rhythm guitar, while multi-instrumentalist Bobb Bruno plays lead guitar, bass and drums. What's new this time is their decision to work with producer and composer Jon Brion. A revered figure in the music world, Brion has collaborated with artists including Fiona Apple and Kanye West and created the scores for such films as Eternal Sunshine of the Spotless Mind and Punch-Drunk Love. Recorded at Capitol Records' famed Studio B, The Only Place features a cleaner and richer sound than other Best Coast releases. Many of the songs' arrangements are detailed with subtle percussion and unexpected instrumentation. Intricate but never overworked, the biggest change from previous releases is how it showcases Cosentino's voice, this time letting it ring clear, unhidden by distortion and reverb.
Since the album's release, Best Coast has toured concert halls and festival stages around the world, appeared on David Letterman, Jimmy Fallon, Conan O'Brien and the cover of Spin Magazine, featured in a Microsoft television commercial and in campaigns for Bushmills, Clarks and Rdio, created a fashion line for Urban Outfitters, dueted with Iggy Pop and Kendrick Lamar, had music featured on Girls and The New Girl, and will be opening the entire Green Day arena tour in 2013.
---