Sponsored by 89.3 The Current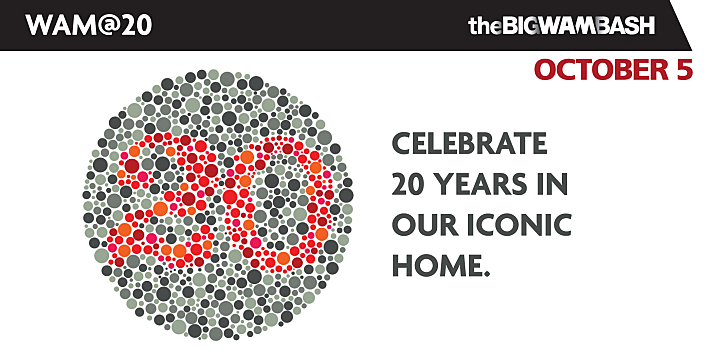 Enter here for your chance to attend the Big WAM Bash.
VIP Party and Big WAM Bash
8 – 11:30 p.m. $250 ($165 tax-deductible)
Preview WAM@20: CHOICE exhibition, the kickoff to a yearlong celebration of 20 years in our iconic home. Interact with artists' projects by Christine Baeumler, Daniel Dean and Ben Moren, and John Keston. Classic cocktails, beer and wine from Big Top Liquors and extraordinary edibles by D'Amico Catering. Plus have access to one-of-a-kind live auction items.
Big WAM Bash
9 – 11:30 p.m. $75 ($25 tax-deductible)
Enjoy the sonic sensations of John Munson and the New Standards (with special musical guests Janey Winterbauer, Aby Wolf, Lucy Michelle, and George McKelvey) while you interact with artists and preview the WAM@20: CHOICE exhibition. Beer and wine from Big Top Liquors and fantastic fare by D'Amico Catering will ensure your palate stays equally entertained.
Artist Projects
Christine Baeumler
Christine Baeumler seeks to raise awareness about ecological issues through studio practice as well as engaging communities in environmental projects focused on ecological restoration. Have your reading done with art-tarot cards representing the WAM collection by this eco-oracle. All your ecological mysteries will be revealed.
Daniel Dean and Ben Moren
Locate an illuminated sign to begin a mobile experiential cinema cellphone excursion around the museum. This hidden narrative will reveal little known facts about the museum. As your exploration unfolds you may find yourself as a provocateur at your own party.
John Keston and DKO
The Davis/Keston/O'Brien (Jon Davis, John Keston, and Graham O'Brien) trio performs Instant Cinema in the Target Studio for Creative Collaboration. Instant Cinema is an improvisational concert and projection piece that provides immersive musical accompaniment to a roving videographer. David Steinman is that "mobile conductor" and is roaming the museum to capture video and sound that is projected for DKO to follow and create their improvisational soundtrack. Listen to the concert and watch the projections to see if you inspire the music of the night.
---