Sponsored by 89.3 The Current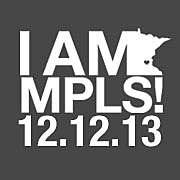 Tickets
$15.00, general public
$50.00, VIP
I AM MPLS!, the acclaimed fashion/variety show celebrating the talented and creative people of the city, returns on Thursday Dec. 12, 2013 at Aria in downtown Minneapolis. Sponsored by Bespoke Hair Artisans, Art Institutes International Minnesota, Barbette, Bryant Lake Bowl, Pixel Farm, and Uber .
Now in its 4th edition, the multi-facted event integrates comedy, music, fashion, and art to form an entertaining evening based on locally grown creative pride. Conceived by Twin Cities-based stylist and event producer Sarah Edwards, I AM MPLS! is an eclectically vibrant celebration of celebrating who we are, what we do, and the common bond that ties us to our fair city. In addition to a fashion show comprised featuring some of the most acclaimed and creative individuals in town, the show will also feature comedy from Jenn Schaal and Maggie Faris, musical performances by Hookers $ Blow and Bollywood.
Styled by I AM MPLS! Fashion Director Davee Ek, I AM MPLS! will feature looks from B. Resale, Atmosfere, MartinPatrick3, Motto, Cliché, LEN and Emma Berg.
---