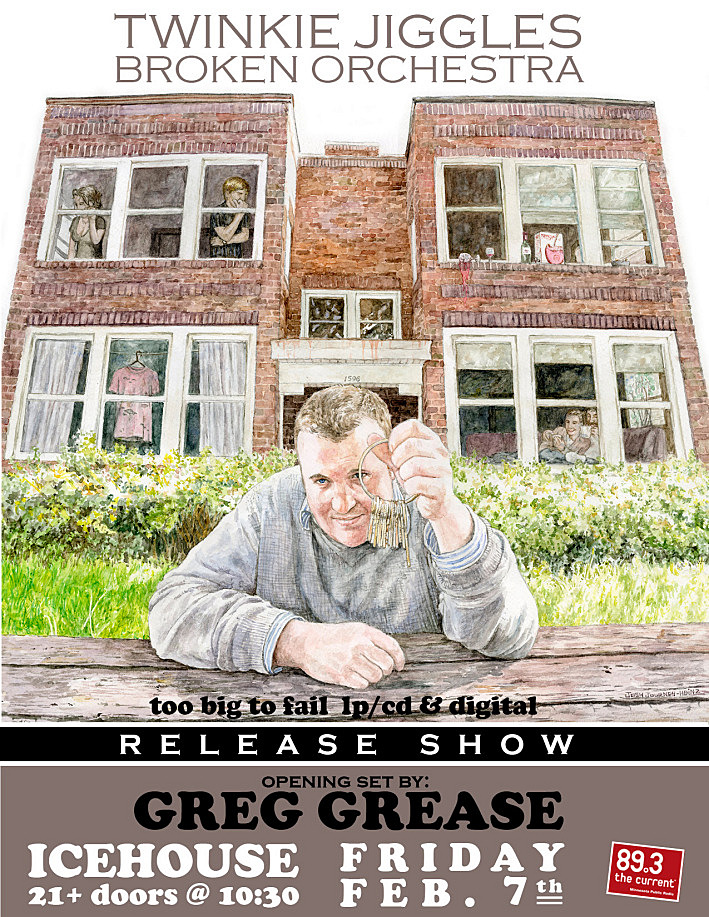 On Friday Feb. 7 Sean McPherson, aka Twinkie Jiggles, is honored to be celebrating the release of his first album with his Broken Orchestra. After well over a decade as an in-demand bassist and collaborator Twin Cities, Sean is ready to share work from his original passion as a musician; writing songs. Too Big To Fail brings together some of the finest voices and musicians from Sean's musical community with vocalists Ashley Gold, Chastity Brown, Claire De Lune and Aby Wolf all taking turns behind the mic.
Sonically, the record may come as a surprise to listeners more familiar with Sean's work in the hip-hop band Heiruspecs. Tunes like "Sister's Wine" and "Halfway Road" expose McPherson's long time love for soul and rock. Beneath the rootsy, Seventies-inspired sound of Too Big To Fail, the influence of Sean's background in hip-hop is tangible in the lyrical turns and topics that McPherson addresses. The songs like "Hi, My Name is Ana" and Fat Jodie speak of intimate relationships without resorting to misogynistic belt notching anthems that are often the only alternative to not talking about sex and romance at all.
At the release party on Friday, Feb. 7 the Twinkie Jiggles Broken Orchestra will feature a larger band than their traditional quartet lineup as well as multiple lead vocalists and special guests. Opening the night will be the phenomenal Twin Cities rapper Greg Grease.
---