Sponsored by 89.3 The Current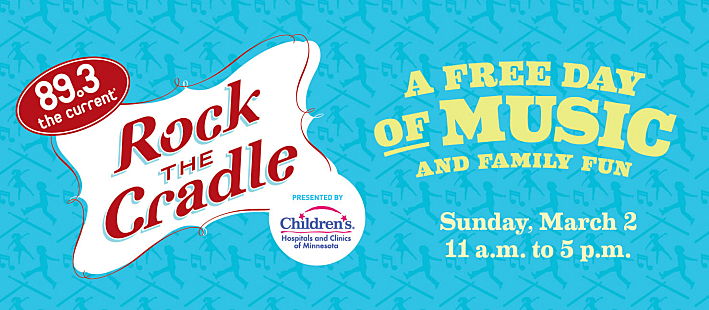 Registration
Register here for Rock the Cradle 2014.
89.3 The Current and Children's Hospitals and Clinics of Minnesota present Rock the Cradle on Sunday, March 2— a free day of fun for kids and their grown-ups, held at two of the state's premier arts and culture institutions. Now in its ninth year, the event has grown to host more than 10,000 people annually.
Throughout the day, families and social groups from all over the Twin Cities come together to enjoy music, art, books and their community in an inspiring setting. Rock the Cradle is aimed at kids up to age 8 and their grown-ups. It is the perfect event for kids and adults to let loose and experience music and the arts.
Attendees will find many fun activities, including DJ Story Time, a Kids' Disco, music classes presented by MacPhail Center for Music; live music from Koo Koo Kanga Roo, Okee Dokee Brothers, Gustafer Yellowgold and The Ericksons, along with tons more!
New to the event this year: The Northern Star Council, Boy Scouts of America invites you to join them for knot tying, creating a rope bridge and more.
Rock the Cradle offers a host of interactive activities from Children's Hospitals and Clinics, Kinderberry Hill Child Development Centers, UCare, Play From Scratch, Pizza Luce, Playatta and lots more!
Register for the event and get important updates about Rock the Cradle by visiting thecurrent.org. By registering, you can enter your child for a chance to be "Kid DJ for a Day" with host, Barb Abney! Registration not required, but encouraged.
Parking: Event parking is available in several parking lots in the immediate vicinity of MIA/CTC as well as the ramp next to the CTC for a fee of $8/day. Free parking and shuttle service available from the Wells Fargo headquarters parking lot on 28th St. and 4th Ave. Shuttles will leave the lot at 15 minute intervals beginning at 10:30 a.m. Free street parking is also available.
Admission is free and open to the public. ">Reserve your spot and plan your day.
---