Hip Hop

Discussion

The State of Hip Hop: Community Meeting
Sponsored by 89.3 The Current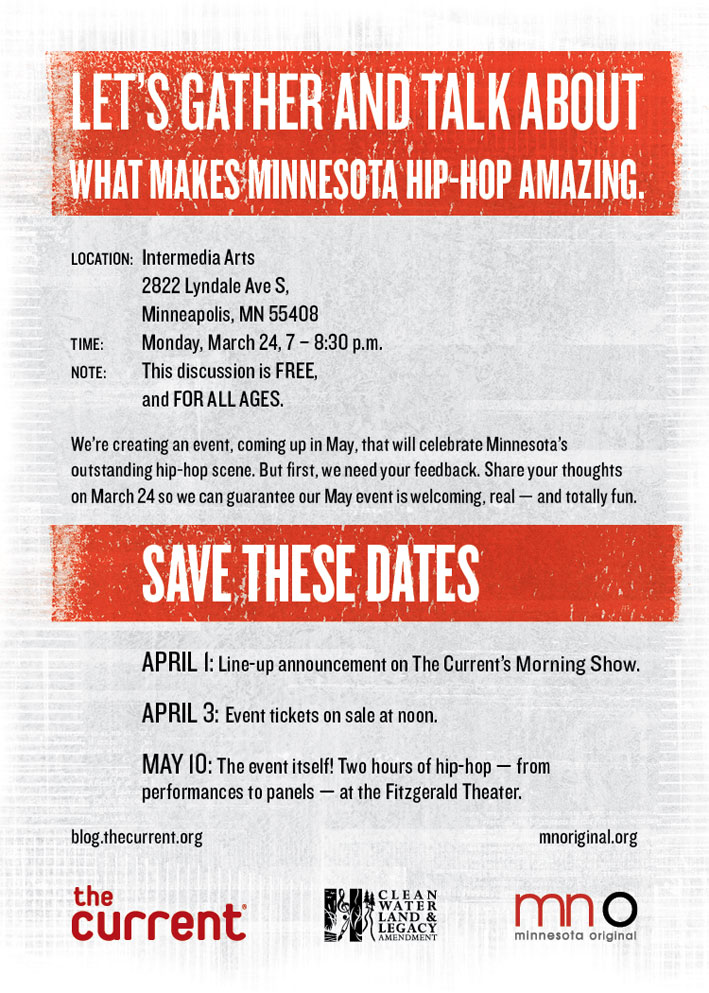 The State of Hip Hop will take over the Fitz as a live event on May 10 and will culminate in an hour-long show on tpt (which airs MN Original) and an hour-long special on the Current. The event will showcase dozens of artists in performances, interviews, panel discussions, and videos, and will be co-hosted by H2′s Kevin Beacham and me, Andrea Swensson.
Before we get too far in the planning process, however, we want to hear from you. Because above all else, we want to put together an event that honors the achievements of our hip-hop community and accurately reflects the State of Hip Hop in Minnesota in 2014.
In advance of the State of Hip Hop event on May 10, we're hosting a community meeting and inviting interested artists, fans, and community members to participate in a panel discussion on the way hip-hop is covered by the media in Minnesota and an open conversation on how we can make this event as inclusive and representative as possible. The meeting takes place this Monday, March 24, at 7 p.m. at Intermedia Arts, and it's both free and open to all ages.
We'll open the meeting with a panel discussion about the relationship between media outlets and the hip-hop community, and what artists and the press can do to ensure representative coverage of the culture and community in the media. How do factors like community segregation, white privilege, and the presence of an established, successful label in town affect which artists get coverage? And how can we break down those barriers from both sides?
Panelists Desdamona, Guante, the Lioness, and Toki Wright will share their thoughts and experiences, and we'll keep the floor open so audience members can join in the discussion.
After the panel discussion wraps up, we will talk specifically about what we have in mind for the State of Hip Hop event, and host an open Q&A with the crowd to collect your feedback. Bring your ideas for artists, topics, and format to share—we want to hear it all.
---
---
comments powered by

Disqus