Hip Hop

Chowgirls Locavore Serenade feat. Dessa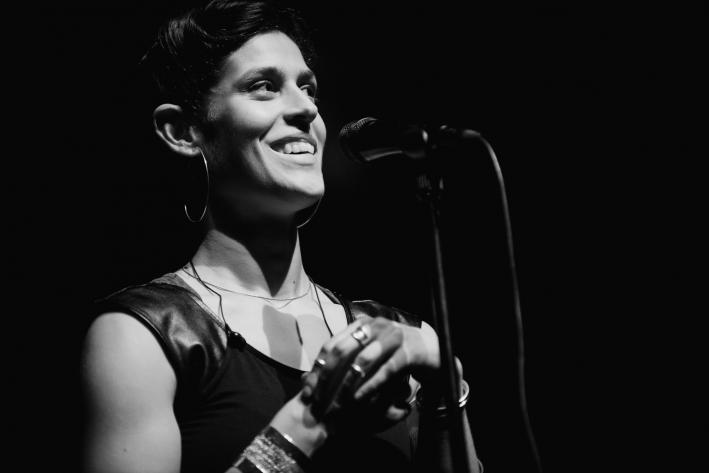 Venue
Chowgirls
1222 2nd St. NE
Minneapolis, MN 55413
SOLD OUT
Enter for your chance to win a pair of tickets to the sold out Chowgirls Locavore Serenade featuring a performance by Dessa!
Locavore Serenade will welcome spring on Sunday, April 6 from 6 to 9 p.m. in the Chowgirls Parlor, with a delicious menu and a performance from the local rapper and essayist, Dessa, and guests Sean McPherson (Twinkie Jiggles Broken Orchestra) and Benjamin Burwell (Taj Raj). Dave Campbell, DJ and host of The Local Show on 89.3 The Current, will guide conversation with Dessa and the audience.
Dessa spent the summer of 2013 touring for her album Parts of Speech and, with support from a Clif® Bar GreenNotes grant, she included farms and farmers markets in her itinerary so she could delve into issues related to food systems and sustainability. For this Locavore Serenade, Dessa and Chowgirls chef Jerry Fodness will collaborate to develop a three-course menu that uses locally sourced ingredients in a creative and delicious way.
Tickets are sold out. See below for information on the afternoon Thrive event Dessa is doing on the same day at the Parlor.
April 6 at 1 p.m.
Thrive: Digging Deep with Dessa
A Minnesota favorite leads a discussion with key players in the sustainable food scene in Minneapolis including Niel Ritchie, CEO of the Main Street Project, Sam Grant of the Movement Center for Deep Democracy, and a local Minnesota farmer. Bring your questions about policy and your questions about grocery shopping; you'll have access to smart, bold change-makers. After the panel, Dessa will perform a short set. Tickets for this first Thrive event are $15.
---