Festival

Midwest Music Fest 2014
Sponsored by 89.3 The Current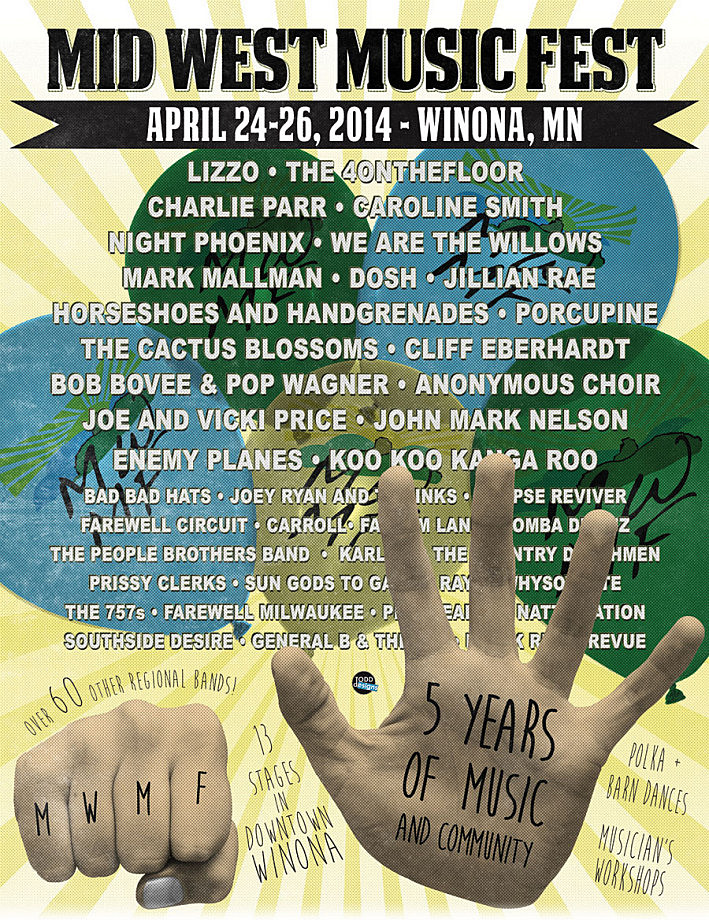 Mid West Music Fest was born in 2010 when AmeriCorps volunteer Sam Brown was stationed in the historic city of Winona, beautifully nestled between the bluffs and the Mississippi River. Boasting three institutions of higher education and a blossoming arts scene including the annual Minnesota Beethoven Festival, Great River Shakespeare Festival, Frozen River Film Festival, Boats and Bluegrass and the Minnesota Marine Art Museum, Sam quickly fell in love with his new community and planted his ambitious idea amongst a group of eager new friends. His idea would be a first-of-its-kind event in the area that brought together more than 70 bands and musical acts at various venues around the community to raise funds for local non-profit organizations like Winona Semcac Head Start, Winona Fine Arts Commission and Winona360. Loosely modeled on Salem OR's "Cherry City Music Fest" (which was loosely modeled on Portland's MusicfestNW and Austin's South by Southwest), MWMF 2010 was an all-ages, all-genres, alcohol free, volunteer-driven two-day summer festival–held on 13 stages for 2 days in July, collaborating with the Great River Shakespeare Festival and Theatre du Mississippi.
MWMF then moved from July to April to correspond with school being in session and to collaborate with Winona's Earth Day celebration. 2011′s Festival was on 17 stages in April and collaborated with Winona Earth Day. Semi-retired stages included Levee Park, Lyon Smith Art Gallery, Mississippi Gypsy, Guild Hall, WSU Green, Walnut Castle, Blue Heron Gallery, Art 56, and Blue Heron Coffeehouse. MWMF 2011 had over 150 volunteers, 100 musical acts, and a 40% increase in participants and benefitted the Winona Fine Arts Commission, Kids First, and the Winona Arts Center.
Mid West Music Fest 2012 and 2013 were even more ambitious, expanding to 3 days with more than 120 acts and 17 venues–including many special events and collaborations.
Lineup
Charlie Parr
Lizzo
Caroline Smith
The 4onthefloor
We Are the Willows
Mark Mallman
Dosh
Night Phoenix
Horseshoes and Handgrenades
The Cactus Blossoms
Cliff Eberhardt
Jillian Raw
Bob Bovee and Pop Wagner
Anonymous Choir
Joe and Vicki Price
John Mark Nelson
Porcupine
Enemy Planes
Koo Koo Kanga Roo
Bad Bad Hats
Farewell Milwaukee
Joey Ryan and the Inks
Farewell Circuit
Carroll
Fathom Lane
Bomba de Luz
Karl and the Country Dutchmen
Prissy Clerks
Corpse Reviver
Sun Gods to Gamma Rays
Whysowhite
Mike Munson
Pine Hearts
The 757s
Natty Nation
Southsde Desire
and more
---