Block Party

Bastille Day Block Party
Sponsored by 89.3 The Current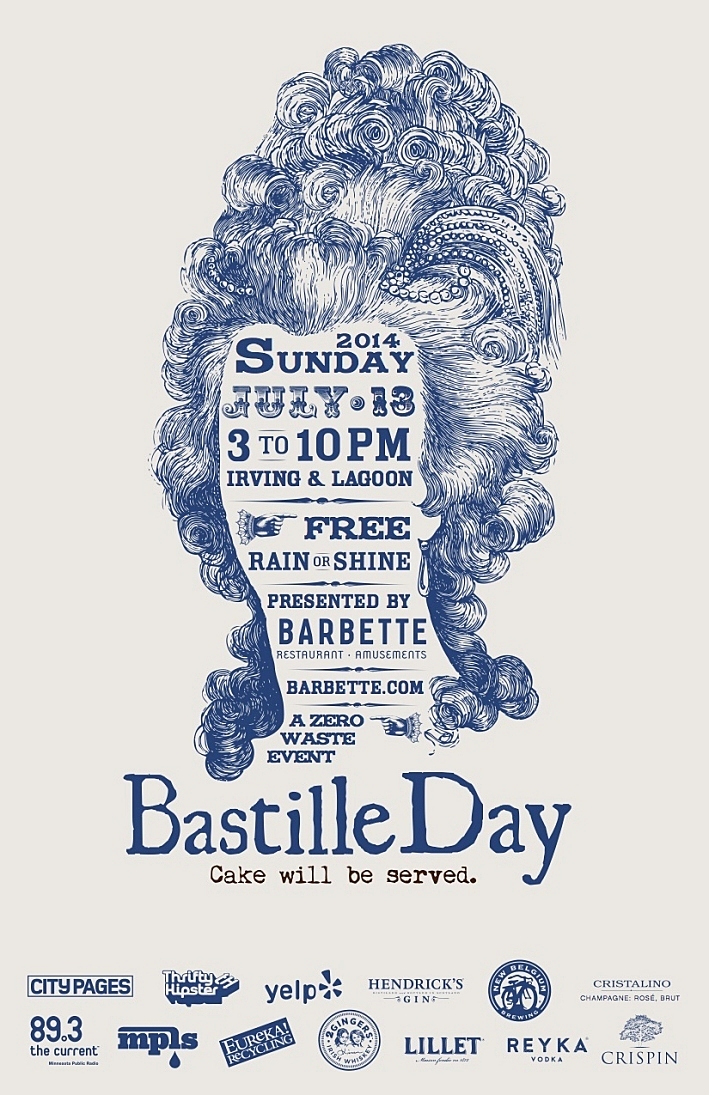 The free block party will take place rain or shine on Sunday, July 13 from 3 p.m. to 10 p.m. outside at Barbette. Featuring entertainment by Hippo Campus, Black Diet, GRRRL PRTY, Nadine Dubois & Les Folies Risque, The Cloak Ox, Heiruspecs, The Brass Messengers, MC Foxy Tann, Kaleena Miller Dance Troupe, and Infiammati Fire Circus. Serving organic picnic foods, cold beverages, and featuring a local artist market.
A portion of the event proceeds will benefit People Serving People. The organization provides emergency shelter to 99 homeless families every night in Hennepin County. Located in Downtown Minneapolis, this 10-story building is essentially a hotel whose primary form of hospitality comes in helping families to overcome homelessness. The heart and soul of People Serving People's work is the time spent on strengthening the futures of the 200+ children at the shelter every day – through early childhood education, healthy meals, volunteer readers and tutors, healthcare, family activities, school transportation, and stabilization of family life. Everyone deserves to have a place to call home – and People Serving People depends on the community's support to help families find their way home.
Eureka Recycling, a local nonprofit waste-reduction organization, is proud to partner with Barbette to make the block party a zero waste event again this year! Through careful planning and the participation of everyone attending, this event can generate no waste. By eliminating, reusing, recycling and composting all the discards generated here, we are greatly reducing our impact on the environment!
Set Times
3 to 3:40 p.m. Hippo Campus
Street: Chanter de la Nuit
3:55-4:35 p.m. Black Diet
Street: Chanter de la Nuit
4:50-5:15 p.m. Les Folies Risque
Street: p.m. Kaleena Miller Dance
5:30-6:10 p.m. GRRRL Party
Street: p.m. Kaleena Miller Dance
6:25-7:05 p.m. The Cloak Ox
Street: Kaleena Miller Dance
7:20-8:05 p.m. Heiruspecs
8:15-8:55 p.m. Brass Messengers
9 p.m. Infiammati Fire Circus
---