Sponsored by 89.3 The Current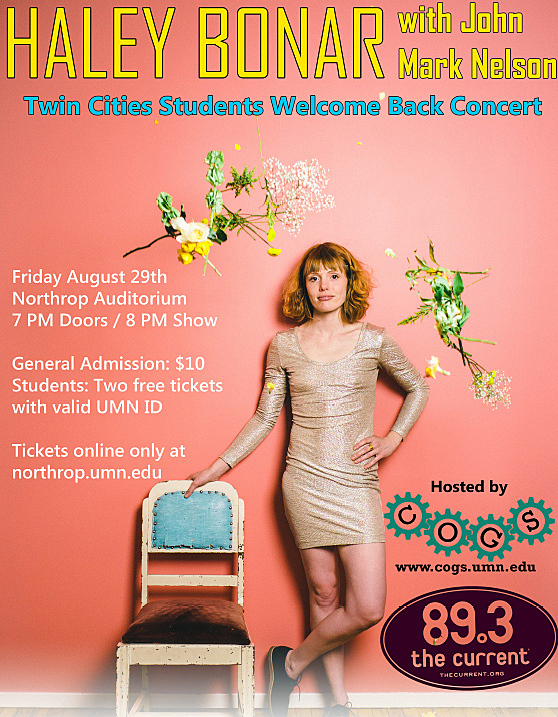 Venue
Northrop
84 Church St. Se
Minneapolis, MN 55455
This is a free event, but reserving tickets is required.
University of Minnesota students will receive an email that includes a promo code to reserve two free tickets.
The Council of Graduate Students (COGS) welcomes University of Minnesota students back on campus and invites the Twin Cities community to join in the celebration. As part of the first annual "Graduate and Professional Student Week of Welcome," COGS will host local musicians Haley Bonar and John Mark Nelson at Northrop, hoping to allow incoming students to experience cultural life in the metro area. Representatives in the arts, Minnesota museums, radio stations, and more will be on site for students to gain familiarity with these and other cultural offerings in the Twin Cities.
Haley Bonar is more than a hard working musician. She is an innovator, creative ass-kicker, and visionary dug into the trenches of living. She writes genuine, epochal, and poetic tales that feel like our heartbreak, failure, frustration, and joy. In a clear, insistent, and often haunting voice, she tells real stories back to us, as if they were our own. It just doesn't get much better than that.
Haley Bonar performs live in The Current studio (2014)
Only 20 years old, John Mark Nelson sings with a slow-smoked croon that belies his age, and he fills his lyrics with sharp, detailed observations of life and love in the Midwest. This folk-pop songwriter has racked up an impressive list of accolades, too.
John Mark Nelson performs live in The Current studio (2014)
Note: Official After Party will be at the Library in Dinkytown.
As a part of the celebration, The Current is providing a giveaway for two free Music-On-a-Stick concert tickets and the Minnesota State Fair.
All ages
---