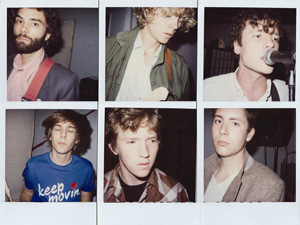 The Austin, Texas band Sound Team are D.I.Y. kind of people. They began making their own cassettes to hand out, silk-screening t-shirts themselves and still enjoy shooting videos to accompany their music. But don't think that all their interest in other artistic realms means they aren't devoted to music-making. Their concerts are celebrated for being experimental and energetic; they just duplicate their recordings.
Steve Seel sat down with Sound Team and had them play a few songs from their debut album, Movie Monster.
Guests
Related Stories
Sound Team - live from South by Southwest Sound Team's unique sound is a layer cake of traditional American folk music in the shape of a pop-song, and iced with the chunky spun sugar of early German synth music.