Tapes 'n Tapes perform in The Current studio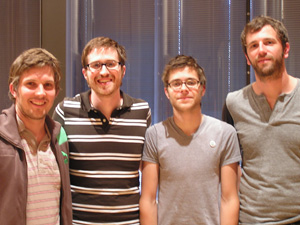 To say that the Minneapolis band Tapes 'N Tapes is on the verge of something big is an understatement.
In addition to their main room big show at First Avenue, the guys have a European tour lined up with The Futureheads, as well as an upcoming scheduled appearance on Late Night with David Letterman show.
Their debut album "The Loon" was just re-released by XL Records.
Songs performed: "Jakov's Suite," "Cowbell," and "Insistor."
Guests
Resources
Related Stories
Tapes 'n Tapes: Bound for the stratosphere via the blogosphere? Saturday night marked a triumphant return for the Minneapolis indie rock band, Tapes 'n Tapes, which took the stage at First Avenue. Eight months ago, Tapes 'n Tapes seemed like just another number in the land of 10,000 bands, preparing to release its first full-length CD. Today it's a group with an international buzz that just finished a nearly sold-out American tour. How did this happen?