The [Gosh Darn] Doo Wop Band - in studio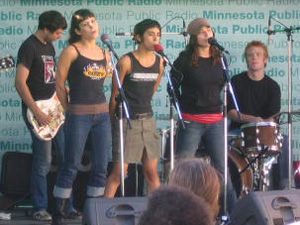 Doo wop, the close-harmonied RnB music popularized in the 50s, has had one brief revival of popularity during the "American Graffitti"-inspired nostalgia trip of the seventies. Remember Bowser and Sha-Na-Na? Well, there's a Twin Cities group that thinks it is high time for another revival. The [Gosh Darn] Doo Wop Band features three female singers who sing about heartbroken girls and the bad boys they love.
While they normally wear vintage prom dresses, the band was in basic rock n' roll black for Mary Lucia's show at the State Fair.
Guests
Resources
Related Stories
A new way to do doo-wop Some say "doo-wop" music went out of favor when the Beatles and other British groups invaded America in the early 60s. Doo-wop enjoyed a resurgence a decade or so later when nostalgia for the 1950s became embedded in popular culture. Now a group in Minneapolis is putting its own imprint on the genre.