Cafe Accordion Orchestra - in studio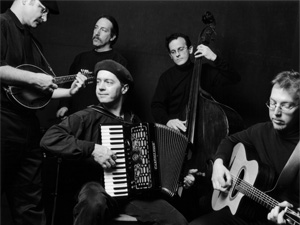 The Cafe Accordion Orchestra's new CD "Cinema", is a tribute to film music ranging from slap-accompaniment to love ballads.
The band is hosting a concert at the Fitzgerald Theater Sept. 8 with the title, "Cinema: A Concert of Great Music from Great Movies."
They stopped by the Morning Show studios to talk about the show, the CD, and great movies.
Songs performed: "It Had Better Be Tonight," "Fit as a Fiddle," "Valse Amelie/Sous les Toits de Paris," and "Baby Elephant Walk."
Guests
Resources
Related Stories