Geoff Muldaur - in studio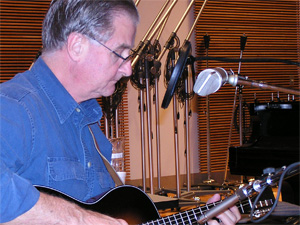 Richard Thompson once said of Geoff Muldaur, "There are only three white blues singers - Geoff Muldaur is at least two of them."
Muldaur spent most of the sixties and seventies touring with the Paul Butterfield Blues Band, The Jim Kweskin Jug Band, and his then-wife Maria. He quit for a while for a desk job and came storming back years later.
Besides his love for the blues, Muldaur has done interpretations of classical and obscure American music too.
Songs performed: "Downtown Blues," "Heavenly Grass,"
and "Wild Ox Moan."
Guests
Resources
Related Stories