Secret Machines perform in studio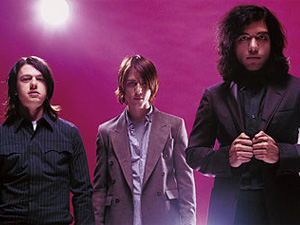 Although originally Texans, Secret Machines now call New York home. That is, if they can call anyplace home after being on the road constantly.
The trio--brothers Brandon and Ben Curtis and Josh Garza--sound like prog rock to a lot of people. They've referred to their sound as "space rock." They usually have a loud, electric live sound that recalls arena rock of the past, but they went acoustic in the Maud Moon Weyerhaeuser Studio. Percussionist Garza even played along by just thumping on his chest for one song.
Songs performed: "Alone, Jealous and Stoned," "Faded Lines" and "Daddy's in the Doldrums."
Guests
Resources
Related Stories