Sierra Leone's Refugee All Stars perform in studio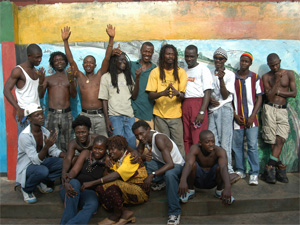 As professional musicians in Freetown, Sierra Leone, group leader Reuben M. Koroma and future R.A.S. bandmates Franco (Francis Langba) and Arahim (Abdul Rahim Kamara) knew each other and even occasionally played together in common musical circles, it wasn't until they reconnected in Kalia Refugee Camp in Guinea that the roots of the group took shape.
Songs performed: "Bull to the Weak," "Keleh Mani" and "Living Like a Refugee."
Guests
Sierra Leone's Refugee All Stars
Resources
Related Stories