IV Thieves performs in studio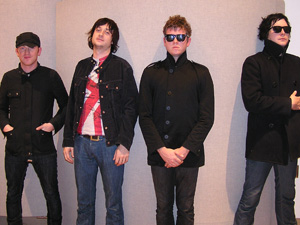 It takes a lot of hard work and dedication to get your start in the music business. Sometimes, all it takes is someone sending your tape without your permission to the right people.
Nic Armstrong had this exact experience when his girlfriend, unbeknownst to him, sent a demo tape of songs to a magazine who then helped get him a recording contract. A change in name to IV Thieves, a relocation to Austin, Texas, and a new album titled If We Can't Escape My Pretty have since followed.
Songs performed: "Take This Heart," "The Day Is A Downer," and "Hard To Explain."
Guests
Resources
Related Stories
IV Thieves - live from South by Southwest IV Thieves (formerly Nic Armstrong & The Thieves) come from Nottingham, England. Their first album, The Greatest White Liar, garnered ecstatic reviews. The Guardian UK raved, "Melodies so instant they could arrive in a jar."