Doomtree performs in studio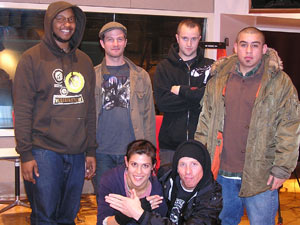 Doomtree is a record label. Doomtree is a rap crew. Doomtree is a family. Over the past five years, Doomtree has become one of the most highly regarded hip-hop collectives in the Midwest, thanks to their innovative recordings, explosive live shows, and tireless work ethic.
By combining the blueprint of hip hop with punk and a slew of disparate artistic and musical influences, Doomtree has won the favor of a broad range of audiences. They are as likely to find fans at indie rock shows as they are at rap shows or basement dance parties. In the past several years the collective has grown to include the lyrical and production talents of more than a dozen core members. The members of Doomtree come from a wide variety of backgrounds and musical interests but joined together to create some of the most forward-thinking beats and rhymes this side of 1987.
The group stopped by the Current to perform and chat with Mark Wheat.
Songs performed: "Rebel Yellow," "Jaded," and "Slow Burn."
Guests
Resources
Related Stories