My Brightest Diamond performs in studio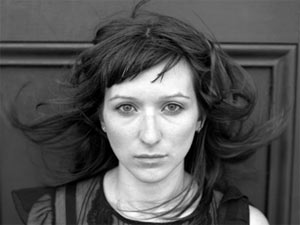 My Brightest Diamond is Shara Worden, granddaughter of an Epiphone-playing traveling evangelist, fathered by a National Accordion Champion, and mothered by a church organist. Spanish tango, Sunday-morning gospel, classical and jazz were the accompaniment to her home life.
Her first song was recorded at age three and by age eight she was studying piano and performing in community musical productions.
Shara honed her musical prowess singing along to Whitney Houston music videos and Mariah Carey albums. When pop music wasn't enough, she enrolled in the music program at the University of North Texas, immersing herself in the songs of Purcell and Debussy. After college, she moved to New York City and fell in love with its cold winters and busy streets.
All of this led to an impressive resume, but My Brightest Diamond still had no album to show for it. In 2005, she began work on two records: one featuring songs accompanied by a string quartet (A Thousand Shark's Teeth), and a more standard rock album featuring a full band (featuring Earl Harvin on drums, Chris Bruce on bass, and, on one song, her father Keith on accordion) titled Bring Me The Workhorse, which was released in August 2006 on Asthmatic Kitty Records.
Shara of My Brightest Diamond stopped by the Current studios for a performance and chat with Barb Abney.
Songs performed: "Something of an End," "Feeling Good," and "Gone Away."
Guests
Resources
Related Stories