Vietnam brings new sensibilities to old-school rock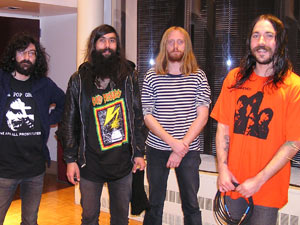 The band Vietnam is the bad boys from Brooklyn, N.Y., who play the kind of rock suggested by the unholy ternary of sex, drugs, and rock 'n' roll.
They play melodramatic, blues-like glam rock with oddly enunciated vocals and mellow guitar strums. Combining influences and emotions with great skill and without fear, this band is ready to rock out with every jagged sound they've got.
While in town for a performance, they stopped by The Current studios to play live and chat with Mark Wheat.
Songs performed: "Hotel Riverview," "Welcome to My Room," and "Apocolypse."
Guests
Resources
Related Stories