The Dears stay a tight-knit group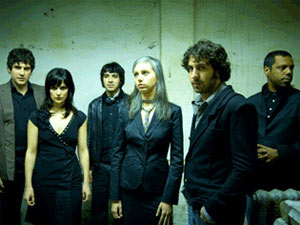 The Dears' 200 debut album, End of a Hollywood Bedtime Story, immediately established The Dears as a unique and powerful presence. The record fused narratives, orchestral arrangements and pop in a way that was praised by quite a few music critics.
By 2001 The Dears ceased to be a rumor; they were real and dark -- almost too real and too dark for a Canadian music scene that banked on fluffy love songs and slick indie hits. With the 2003 release of No Cities Left, The Dears gained the success that End of a Hollywood Bedtime Story had promised.
The Dears were nominated for Best New Group at the 2004 Canadian Juno Awards, acclaim followed by New Musical Express' naming The Dears as "Probably the Best New Band in the World".
The Dears played Glastonbury (UK) in 2005 and British fans as well as critics welcomed the band's mercurial implosion into their music scene with open arms. In the summer of 2005, Natalia Yanchak and Murray Lightburn were married, a gesture that formalized their decade-long partnership. Despite the stresses and upheavals of the music industry the tight-knit band -- whose lineup of Murray Lightburn, Natalia Yanchak, George Donoso III, Martin Pelland with flautist and keyboardist Valerie Jodoin-Keaton and guitarist Patrick Krief - had always been close.
Murray Lightburn of The Dears stopped by The Current studios before their performance at The Fine Line to play a few songs and talk with Mark Wheat.
Songs performed: "Ticket To Immortality," "Whites-Only Party," and "There Goes My Outfit."
Guests
Resources
Related Stories