Snowden explores the cheerful side of gloom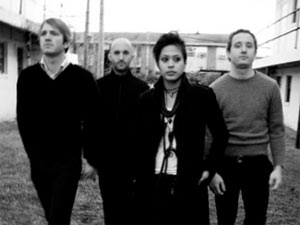 Snowden are a four piece band from Atlanta, a town better known for pop music these days than indie rock. The band got its start when lead singer Jordon Jeffares graduated from college and didn't want to move on to grad school.
There's a serious streak to the band. Jeffares wails, "The cities brown with the corporate decay. There's no water for my lips much less for may face" in Kill the Power. But they are not another Joy Division-wannabe gloom act. They also know how to dance and have a good time.
The cheerful bunch stopped by the Current studios to chat with Bill DeVille.
Songs performed: "Anti-Anti," "Between the Rent and Me," and "Innocent Heathen."
Guests
Resources
Related Stories