No rest for Peter Mulvey and Clive Barnes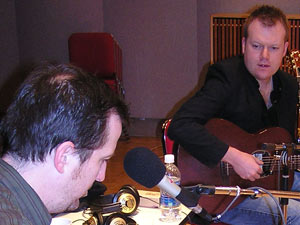 Singer songwriter Peter Mulvey, a product of Wisconsin and a regular performer in The Morning Show playlist, is touring the country constantly. He even books some regular gigs in Ireland where he met Clive Barnes, a respected guitarist and singer in his own right.
Barnes is one of the only, if not THE only slide guitarists in Ireland and is frequently involved in session work. He and Mulvey were on their US leg of a tour before crossing the pond to finish in Ireland.
They stopped in The Morning Show studio to chat with Dale and Jim Ed.
Songs performed: "Knuckleball Suite," "Borderlines,"
"Shirt," and "Goodbye."
Guests
Peter Mulvey
Clive Barnes
Resources
Related Stories