Policy and a Pint: Health Care Handcuffs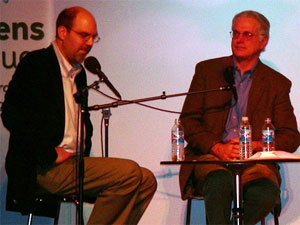 On March 7, 2007 89.3 The Current and The Citizens League host "Policy and a Pint: Health Care Handcuffs" at the Varsity Theater. Steve Seel hosted and the guests were MPR's chief economic reporter Chris Farrell and economist Steve Parente.
Guests
Chris Farrell
Steve Parente
Resources
Related Stories
Policy and a Pint: Elections 101 We all know that politics and money "go together." The conventional wisdom says that it takes money to get elected.. But does more money always mean a better chance of winning?
Policy and a Pint - The Future of Minnesota's Environment Steve Seel discusses personal environment decisions with Larry Baker, Senior Fellow at the University of Minnesota's Water Resources Center, Kristin Nelson, assistant professor for the Department of Forest Resources and Department of Fisheries and Wildlife, and John Curry, campaign director for the Minnesota Campaign for Conservation.