Money Mark: Live from SXSW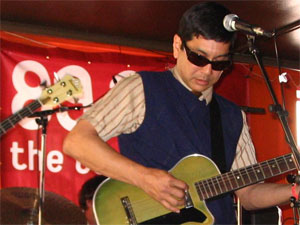 Mark Ramos-Nishita performs under the moniker Money Mark. He has a career that any musician would envy. He tours with the Beastie Boys as a keyboardist, writes music for films, collaborates with the likes of Yoko One and Beck, and fronts his own projects.
That's his focus now. He's just out with a new album in 2007, Brand New Tomorrow, that is on surfing-crooner Jack Johnson's label.
Songs performed: "Color of Your Blues," "Summer Blue," and "Sneaky People."
Guests
Resources
Related Stories
1 Photo
Mark Ramos-Nishita aka Money Mark

(Copyright: Universal Records / Photo: Andrew Southam

)