Prototypes: Live from SXSW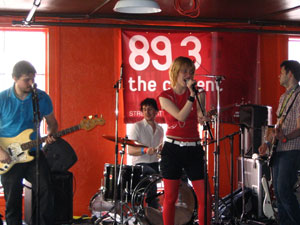 Since forming in 2003, Gallic rockers Prototypes have already landed a top-ten single in France and enlivened both underground clubs and contemporary European art scenes with their punchy electronic rock.
Members Stephane Bodin, Francois Marche, and Isabel Le Doussal stopped by our SXSW broadcast to talk to Steve Seel about road food, accents, and the founding of the group.
Songs performed: "Je Ne Te Connais Pas," "Medicalement," and "Who's Gonna Sing?"
Guests
Resources
Related Stories
1 Photo
Prototypes

(Photo: Ph.Lebruman

)