The Sights: Live from SXSW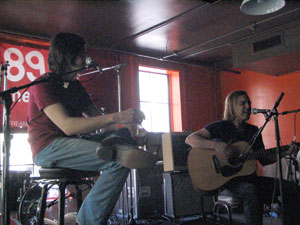 Eddie Baranek and organist-bassist Bobby Emmett come from Detroit and play swaggering garage rock. They've been touring with their self-titled album that includes the single "Just Got Robbed," which sounds like a staple of classic rock stations even though it was written in 2005.
Songs performed: "Happy," "Good Way to Die," and "Scratch My Name in Sin"
Guests
Resources
Related Stories
1 Photo
Eddie Baranek, Bobby Emmitt, and Mike Trombley of The Sights

(Photo courtesy New Line Records

)