Fujiya & Miyagi: Live from SXSW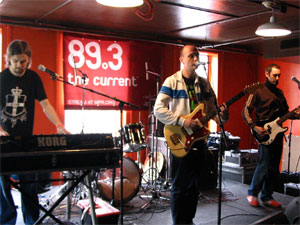 There are great rock songs with meaningful lyrics that touch you and change your life. Fujiya & Miyagi don't write those kind of songs.
The Brighton-based trio write fluffy electro-disco concoctions that make you unconsciously start bobbing your head. And those kind of meaningless songs are great, too. Their new album is Transparent Things.
Songs performed: "Ankle Injuries," "Photocopy," and "Collarbone."
Guests
Resources
Related Stories
1 Photo
Steve Lewis (Fujiya), David Best (Miyagi), and Matt Hainsby

(Photo courtesy the band

)