Tom Morello: Live from SXSW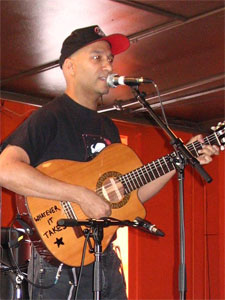 After years being a member - an outspoken member - of big bands such as Audioslave and Rage Against the Machine, Tom Morello is stepping out on his own. He's been performing for a few years as The Night Watchman and just released his solo debut this year.
The album is as political as anything he did with RATM; it called One Man Revolution. And while this isn't an end to his other projects, The Night Watchman is his main project now.
Songs performed: "House Gone up in Flames," and "Flesh Shapes the Day."
Guests
Resources
Related Stories
1 Photo
Tom Morello aka The Night Watchman

(Photo courtesy Tom Morello

)