The Long Winters perform in studio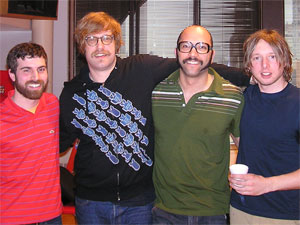 The Seattle based band has gone through quite a few members since their 2001 debut, but one thing remains consistent - their dynamic sound.
With current members, John Roderick (guitar & vocals), Eric Corson (bass), Nabil Ayers (percussion) and Jonathan Rothman (keyboards), The Long Winters stopped by The Current before their gig at The 400 Bar to play a few songs and to talk with Steve Seel.
Songs performed: "Blue Diamonds," "Clouds," and "Push Over."
Guests
Resources
Related Stories