Neal & Leandra perform in studio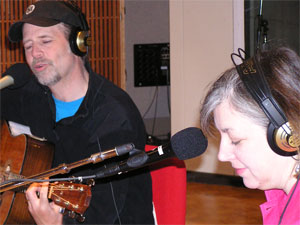 It's been twenty years since Neal and Leandra starting singing together. Since then, they've released several recordings, got married, started a family and have made a career out of their music and engaging personalities.
The week of April 17, 2007 they're releasing a collection of new songs and stories called "Dancing With a Ghost" as a celebration of this milestone.
They stopped into the Morning Show studio to chat with Dale and Jim Ed.
Songs performed: "Broken," "Dancing With a Ghost," "Luis," and "This Road."
Guests
Resources
Related Stories