The Ponys in The Current studio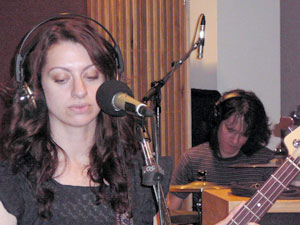 When The Ponys started out in 2000 they - like many other bands at the time - were labeled "garage rock." The Chicago four-piece no longer fit under that simple description, as they've expanded their live and studio sound beyond that simple moniker.
Mary Lucia chatted with them about recording with the legendary Steve Albini, the first rock shows they attended, and their new album, "Turn Out the Lights."
Songs performed: "We Shot the World," "Exile on my Street," and "Turn the Lights Out."
Guests
Resources
Related Stories
2 Photos
Brian Case (guitars) of The Ponys

(MPR Photo/Stephanie Curtis

)

Jered Gummere (guitar, vocals) of The Ponys

(MPR Photo/Stephanie Curtis

)
View 1 more photos