Arctic Monkeys perform in the Current studio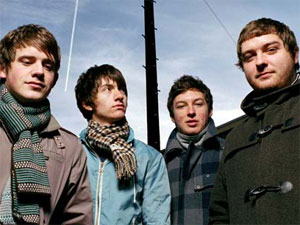 The band was formed by Alex Turner vocals/guitar), Jamie Cook (guitar), Andy Nicholson (bass) and Matt Helders (drums) in Sheffield, England in 2003.
After Alex Turner and Jamie Cook received guitars for Christmas, they made practicing a full time obsession. All of that practicing paid off when the band inked their first recording deal with the label Domino in the spring of 2004. Their first single, I Bet You Look Good On The Dance Floor debuted at # 1 on the UK singles chart in October 2005. Their debut album, Whatever People Say I Am, That's What I'm Not was released in January 2006 and in one day, sold 118,501 copies in the UK and within a week 350,000 units had sold, setting a record for more records sold than the rest of the Top 20 album chart combined.
Alex and Jamie from the band stopped by the Current's studio before their First Avenue gig to play a few songs and hang with Mary Lucia.
Songs performed: "The Bakery," "Only Ones Who Know," and "Fluorescent Adolescent."
Guests
Resources
Related Stories