Rachel Ries performs in the Current studios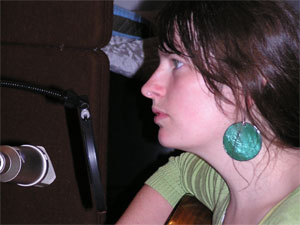 When we last met our hero she had driven all night to join us in Jackson for our live show at the Historic State Theater last summer.
She made it to the show on time, in her camping clothes (just kidding) AND with tonsillitis. Even with all these obstacles, she put on a marvelous performance.
She's originally from South Dakota and is back in the area to promote her two new projects: one with Anais Mitchell, and the other is a solo project due out in August 2007. She was joined in the studio by Ariel Bolles on bass.
Songs performed: "Learning Too Slow," "You Only," and "Chicago."
Guests
Resources
Related Stories