The Heavenly States perform in the Current studios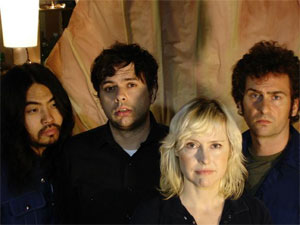 The Heavenly States consist of Ted Nesseth, Jeremy Gagon, Genevieve Gagon, and Mark Christianson. They've recorded two full length albums, as well as the 3 song single King Epiphany I, II and Monument.
They also have recorded singles with Coldplay, The Postal Service, several Australian B-sides, and the EP Elephants From Ants.
The band has also toured the USA, Australia, the UK, Egypt, and were the first rock band to play Libya.
Songs performed: "Make Up," "Roses," "Lost in the Light."
Guests
Resources
Related Stories
Heavenly States perform in studio Although all the members reside in the Bay area now, two of the members grew up in Owatonna, MN up until their early 20s. The group joined Mary Lucia in the Current studios to talk about the local music scene back in the mid-90s and to perform their SST records-inspired rock songs.