Great Northern perform in the Current studios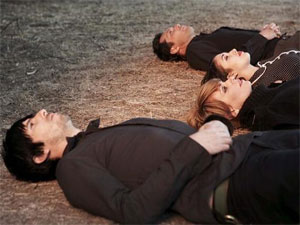 Great Northern are band members Solon Bixler, Rachel Stolte, Davey Latter, and Ashley Dzerigian. They are based out of Los Angeles, and their music has been called memorably melodic, consisting of layered melodies of chimes, piano, keyboard, acoustic and electric guitars.
Their debut CD, Trading Twilight For Daylight, was released in May, 2007 and has received some positive press. The band is currently on tour and played The Varsity Theatre, but stopped by The Current Studio before their show, for an acoustic performance and to talk with Mark Wheat.
Songs performed: "Telling Lies," "City Of Sleep," and "Home ."
Guests
Resources