Willy Mason performs in the Current studio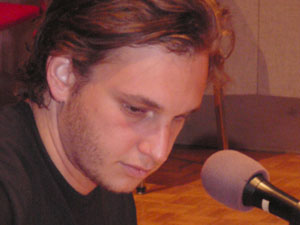 Listen Willy Mason performs in the Current studio

Jun 19, 2007 Willy Mason performs in the Current studio
Do you tell your kids to go directly to college after high school, or do you tell them to take a year off and figure out their life? Maybe you're like Willy Mason: he was planning to go to college, but ended up touring at age 17.
Now, at the ripe old age of 22, the Martha's Vineyard singer-songwriter is big in the U.K. and traveling the U.S. every week promoting his new record, "If The Ocean Gets Rough".
He stopped along his trips into the Morning Show studio to chat with Dale and Jim Ed.
Songs performed: "Into Tomorrow," "The World That I Wanted," and "Save Myself."
Guests
Resources