Dan Deacon performs live in the Current studio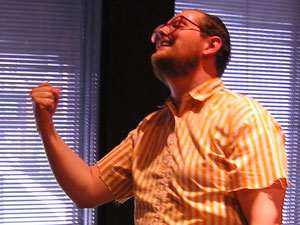 Dan Deacon has been getting a lot of attention lately. The Baltimore City paper has named him Best Solo Performer for the past two years. Pitchfork gave the new album, Spiderman Of The Rings, an 8.7 and named the album the Best New Music of May.
While he was in the studio with Barb Abney he talked about his classical music background, his home "Wham City" as both a dwelling and as a musical collective, and the amount of his material that he allows his fans to obtain for free.
Songs Performed:
"Trippy Green Skull," and "Silence Like The Wind"
Web-exclusive: Videohippos, which are opening for Dan Deacon on tour, also performed their song "The List."
Guests
Resources