Monroe Crossing perform in the Current studio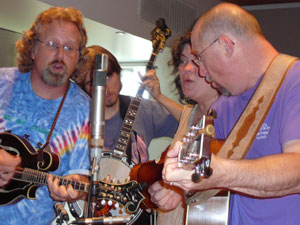 Monroe Crossing does it the old-fashioned way: standing around one microphone, leaning in and backing off when they have to balance the overall sound of the five instruments and vocal harmonies. It's a dance they make about 150 times a year in concerts all over the Midwest.
They're hosting a bluegrass festival June 29, 2007 at the Carpenter Nature Center and stopped by the Morning Show studio to talk about it.
Songs performed: "No One Has to Tell Me What Love Is," "Mason Harris," and "Into the Fire."
Guests
Resources
Related Stories
Monroe Crossing - in studio Bluegrass bands do something a lot of bands can't do: stand around one microphone and make music. It requires some "choreography" and a careful eye.