Robbers on High Street perform in the Current studio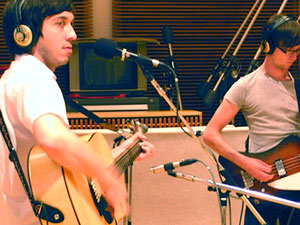 On the road with the Redwalls and headed to the Triple Rock in Minneapolis, New York's Robbers on High Street stopped by our studios and chatted with Steve Seel about dining adventures at South by Southwest, who gets to be in control of the music while riding in the tour van, and their love of bowling in the Twin Cities.
Songs performed: "Crown Victoria," "Your Phantom Walks The Halls" and "Across Your Knee."
Guests
Resources
Related Stories
Robbers on High Street perform in studio They've only been a band for a handful of years, but they've already built quite the buzz and have found themselves on a label owned by a major movie film studio. They joined Mary Lucia in the Current studios to talk about how the group formed and perform their energetic indie-rock songs. Songs: "Dig The Lightning," "Montefiore," and "Price And Style"