Roma di Luna performs in the Current studio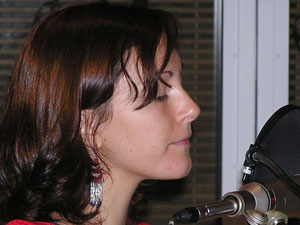 Alexei and Channy Moon Casselle met in high school, dated, went their separate ways, stayed in touch, and now are married and living in Minneapolis. They also come from various musical backgrounds: classical, bluegrass and hip-hop.
Their personalities and music have melded together in an unusual way to form Roma di Luna, a haunting, melodic duo that is releasing it's first full-length CD, "Find Your Way Home" this week at the Cedar Cultural Center.
Alexei and Channy stopped in the Morning Show studio to play a few songs for Dale and Jim Ed.
Songs: "Plenty," and "Bury Me Beneath the Killing Fields."
Guests
Resources