Rilo Kiley perform in the Current studio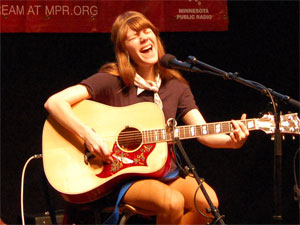 Returning for for their first full length following their individual solo projects - The Elected and The Watson Twins - Rilo Kiley is touring in support of their latest album, "Under the Blacklight."
They talked to Mark Wheat about focusing on the rhythm section, dancing the "smoke detector," and trying not to limit themselves.
Songs performed: "Close Call," "Dreamworld," and "Moneymaker."
Guests
Resources
Related Stories
Rilo Kiley perform in studio Jenny Lewis and Blake Sennett from Rilo Kiley joined Mary Lucia in the Current studios to talk about their past few years as a band and the road ahead.
1 Photo
Rilo Kiley

(Minnesota Public Radio / Leif Larson

)