Jevetta Steele performs in the Current studio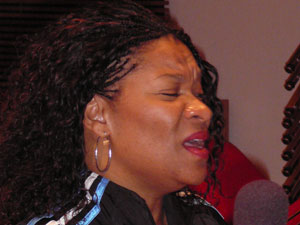 Several years ago, Jevetta Steele wrote and starred in a production called "Two Queens One Castle." The show is based upon her recovery from a destructive love triangle in her marriage. The show was a hit and played in other theaters around the country.
She's back in the Twin Cities for an encore performance put on by Mixed Blood at the Music Box Theatre. She stopped in the studio, along with musical director Sanford Moore, to sing a few songs.
Songs performed: "I Ain't Supposed to be Here," and "The Rivers are Swollen."
Guests
Resources