The Teenage Prayers perform in the Current studio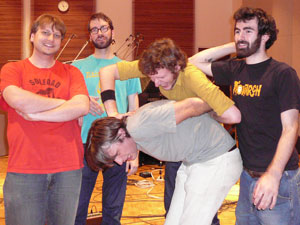 With musical influences such as David Bowie, Solomon Burke, Iggy Pop, Otis Redding, and the Clark sisters, you realize their sound is most definitely soulful rock. The Teenage Prayers formed in New York City in 2001 and their style quickly caught the ear of Solomon Burke who produced the final track on their debut record, Ten Songs.
For their follow-up record, the band enlisted the help of the legendary founder of the Dream Syndicate, Steve Wynn.
Songs performed: "No Sex," "Center of the World," "Is My Living in Vain?" (Cark Sisters Cover) and "Goodbye Baby (Baby Goodbye)" (Solomon Burke Cover - Web Exclusive)
Guests
Resources