Oakley Hall perform in the Current studio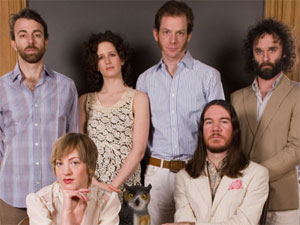 Oakley Hall was originally a ten member collective playing honky-tonk covers and drinking plenty of booze in Lower East Side Manhattan. Now the band has cleaned up their act, downsizing to its current roster of six members, signed a recording deal with Merge Records. While their style sticks to the core of country music's basic elements, they've mixed less than conventional sounds, including a modified electric fiddle and a Fender electric strung up like a banjo.
The band was in town and stopped by The Current to play a few songs before their 7th Street Entry performance.
Songs performed: "I'll Follow You," "Angela," and "Volume Rambler."
Guests
Resources