Matt Pond PA performs in the Current studio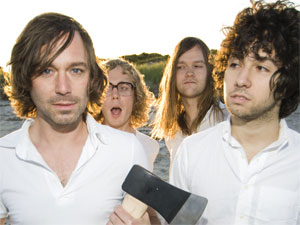 It's been just under a year since Matt Pond PA stopped by the station the first time. In that time the lineup has changed a bit and they've released both the If You Want Blood EP and the Last Light full length album, which show's Matt's reverence for those who are English, like Pulp and Blur.
Between boughts of hysterical laughter they discussed their nomadic lifestyle; Why there's still a PA in the band's moniker and their "other band," Dark Leaves.
Songs performed: "Giving It All Away," "Taught To Look Away," and "People Have a Way."
Guests
Resources
Related Stories
Matt Pond PA performs in studio Matt Pond is a man. Matt Pond PA is a band. The band always includes singer Matt Pond, but the rest of the roster changes frequently.