Sea Wolf performs in the Current studio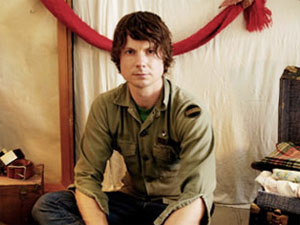 Named after Jack London's 1904 novel, L.A.'s Sea Wolf is a moniker for singer/songwriter Alex Brown Church's dark, folk-rock project. Formerly the bassist in the pop band Irving,Church plays with a full band including cello and marxophone.
While Church is the only permanent member, he considers Sea Wolf to be more of a band than a solo effort. The musicians that make up his band are a rotating cast L.A. musicians known as the Ship Collective. "Leave In The River" is the first full-length release.
Song performed: "Winter Windows," "Middle Distance Runner," and "You're a Wolf."
Guests
Resources