Raul Midon performs in The Current studio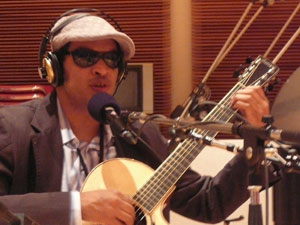 The New Mexico born, New York-based writer, vocalist, and guitarist Raul Midon released his debut album "State of Mind" in 2005. He combines his distinct voice, strumming beats, and a cappella sounds to create a one-man show.
His latest project, "A World Within a World" was released this past Sept. 2007, and to help promote the new CD, Raul Midon has taken his show on the road making an appearance at The Dakota in downtown Minneapolis.
Before the show, he stopped by The Current studio for a live performance and conversation with Mary Lucia.
Songs performed: "Pick Somebody Up," "Song For Sandra," "The More That I Know."
Guests
Resources
Related Stories