Matthew Dear performs in The Current studios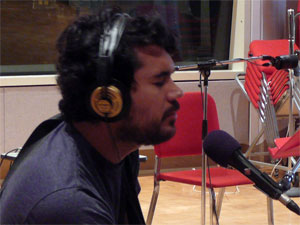 Man of many pseudonyms including False, Jabberjaw, and Audion, Matthew Dear creates a genre-bending style of music ranging from poppy electronic to minimalist techno to dancefloor-friendly rock.
Dear's career took off after meeting Sam Valenti IV, the owner of their record label Ghostly, in the late '90s at a house party. Now playing with drummer Mark Maynard and guitarists John Gaviglio, they make up Matthew Dear's Big Hands and are on tour in support of his new album Asa Breed.
Songs performed: "Give Me More," "Midnight Lover," and "Deserter."
Guests
Resources